Depression is not a good traveling companion. We know it. However, the more the science deepens in this disorder, the better we know its effects, not only psychologically but also in the brain. Now a group of psychologists from the University of Sussex has found a link between depression and the rate at which the brain ages.
The longer the depression lasts, the more havoc it will cause in the brain
These researchers analyzed the data from 34 longitudinal studies, which involved more than 71,000 people, focusing on the relationship between depression and the decline of cognitive function over time.
They found that participants diagnosed with major depression suffered a gradual decline in cognitive functions. These people showed signs of memory loss, difficulties in making decisions and a decrease in the speed of information processing. In fact, previous studies have also found that people with depression have a higher risk of developing dementia.
The depressed brain
Why is depression so dangerous to the brain? Through what mechanisms it accelerates the aging process? The answer comes from the hand of another series of investigations, although we can get it from this image in which it can be seen that the depressed brain shows less activity.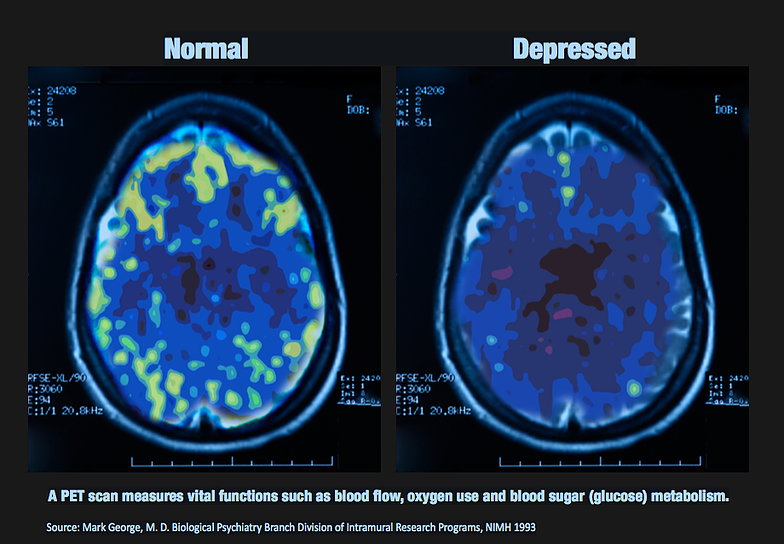 A study carried out at the University of Southampton analyzed 80 people who had been suffering from depression for more than a decade and had never undergone treatment. They underwent a positron emission tomography to locate a specific type of protein that results from the brain's inflammatory response to an injury or disease.
In fact, we know that inflammation is a normal response of the body to protect us when we are injured but if it persists over time it can lead to the onset of chronic and neurodegenerative diseases.
These neuroscientists discovered that the more time people had spent suffering from depression, the higher the protein levels that indicated inflammation. The highest levels were concentrated precisely in the prefrontal cortex, which is the area of ​​the brain responsible for executive functions such as reasoning and decision making.
These findings correspond to a previous study conducted at Janssen Research & Development in which it was appreciated that people suffering from depression had higher levels of C-reactive protein, a biological marker of inflammation throughout the body, than those who did not suffer from the disorder. Exactly, depressed people had 30% more C-reactive protein.
Another research conducted at the University of California linked directly the level of C-reactive protein with worse performance in short-term memory tests. They also found that these people showed a decrease in volume in some areas of the brain, such as the temporal lobe, which plays an important role in language since it is responsible for deciphering information, as well as in auditory memory, the regulation of emotions and long-term memory.
The good news is that this neurodegenerative process can be stopped when help is sought in time, to avoid the cumulative effects of depression on the brain. This article on how to treat depression can serve as your starting point.
Sources:
John, A. et. Al. (2018) Affective problems and decline in cognitive state in older adults: a systematic review and meta-analysis. Psychological Medicine. Perry, V. H. (2018) Microglia and major depression: not yet a clear picture. Lancet Psychiatry; 5(4): 292-294. Cepeda, M. S. et. Al. (2016) Depression Is Associated With High Levels of C-Reactive Protein and Low Levels of Fractional Exhaled Nitric Oxide: Results From the 2007-2012 National Health and Nutrition Examination Surveys. J Clin Psychiatry; 77(12): 1666-1671. Magouirk, B. et. Al. (2012) C-Reactive Protein is Related to Memory and Medial Temporal Brain Volume in Older Adults. Brain Behav Immun; 26(1): 103-108.