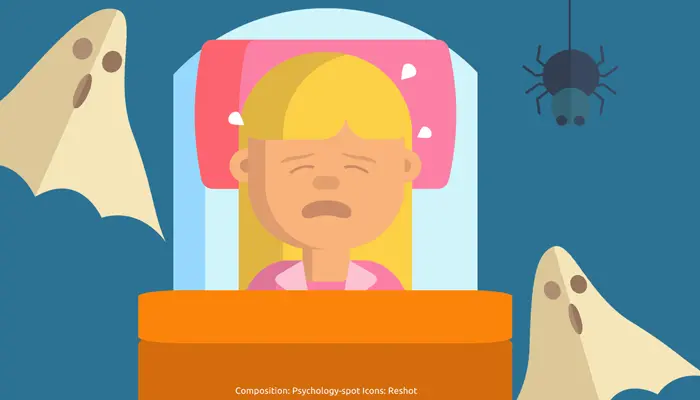 Nightmares are usually quite distressing, but until they become the norm, the remains of the dream fade throughout the day, so that by the end of the day, it is likely that we will have completely forgotten that dream. However, there are times when nightmares become recurring. They then become a chronic problem that affects the quality of our sleep, prevents us from resting properly, and haunts us during the day.
The first step: understanding the origin of nightmares
Threatening monsters, races that lead nowhere, and unexpected falls are some of the most common contents of nightmares, which occur during the REM sleep phase; that is, when rapid eye movements dominate rest. However, regardless of their content, all nightmares are characterized by generating an intense emotional experience of negative valence marked by states such as anxiety, anguish and sometimes genuine terror.
It is important to understand that nightmares can be idiopathic (the most common nightmares experienced by most people) or they can be associated with certain psychological problems, such as post-traumatic stress disorder.
Post-traumatic nightmares are easy to recognize as they usually replicate the event that generated a trauma. We relive the situation over and over again in different ways. On the other hand, the dream content of idiopathic nightmares is usually more varied.
Post-traumatic nightmares need psychological treatment since they are another symptom of a mental disorder. Idiopathic nightmares are relatively easier to control since they depend on our level of stress, daily worries and fears rooted in the subconscious.
The second step: understanding the triggers of idiopathic nightmares
Psychologists at Rutgers University and Florida State University developed the Emotional Cascade Model, according to which the negative emotional experiences we experience during the day contribute to nightmares through two basic processes: rumination and catastrophic thinking.
Rumination, that is, turning things over and over again in our mind, keeps those annoying contents active, so it is not strange that they are later expressed in sleep through nightmares.
Likewise, catastrophizing involves imagining the worst possible outcomes, creating a storm in a teacup. In this way, the negative impact of the negative experience is triggered, generating even more distress, which increases the likelihood of having nightmares.
Basically, according to the Emotional Cascade Model, nightmares reflect an overflow of the day's worries, which we end up transferring to sleep. When our mind remains focused on problems and conflicts for much of the day, turning them over and dramatizing them, we will have problems falling asleep because our brain remains excited. These emotions become precisely the ingredients that shape our nightmares.
To make things even worse, when we wake up from a nightmare, we not only feel distressed, but we are also worried that that dream will repeat itself, so we are reinforcing it since because of the rebound effect, nothing sticks more intensely like what we want to forget.
The third step: avoid nightmares when sleeping by breaking that vicious circle
In their study, which included 47 people who were followed for two weeks, to analyze a total of 219 nightmares, these researchers also found that the impact of nightmares does not end when we wake up. Many people claimed that the sensations and feelings they experienced during the bad dream accompanied them during the day or clouded their mood. This plunges them into a vicious cycle of tension, worries and anxiety that increases the likelihood of suffering nightmares while sleeping. How to avoid nightmares and escape from that loop?
Resorting to relaxation.
Of course, this is easier said than done, but if we want to avoid nightmares while sleeping we need to break the loop of worry, rumination, and catastrophizing. When our mind finds peace during the day, it is unlikely to unleash a storm at night.
When nightmares are concentrated in a particularly difficult period, the best thing we can do is resort to stress management techniques, from practicing yoga and mindfulness to breathing exercises.
Establishing a relaxing routine at bedtime will also help us reduce the level of brain activation, arranging the mind for a more restful sleep. Obviously, we also need to make sure we don't overthink a problem when we put our head on the pillow.
An experiment conducted at the Sleep Laboratory of the University Hospitals of Geneva revealed a simple strategy to avoid nightmares: listening to sounds that generate positive emotions, whether relaxing melodies or music that generates good memories. That simple trick can consistently reduce nightmares and increase pleasant dreams.
Last but not least, when nightmares revolve around the same topic, it is advisable to perform an introspection exercise. What message is our unconscious trying to convey to us? What hidden fear or insecurity do those nightmares reveal?
In a general sense, talking about the dream, telling someone what we have dreamed or even writing it down, can help us understand the emotions that underlie those contents. And once they have left the "darkest" area of our mind and we have brought them to consciousness, it is more difficult for nightmares to repeat themselves since they have fulfilled their purpose: alerting us to something that is taking away our serenity.
Freud proposed that dreams are the "royal path to the unconscious", but they do not have to lead to emotional distress. By understanding how your feelings during the day spill over into your experiences during the night, you can improve your emotional states when you are awake and asleep.
References:
Schwartz, S. et. Al. (2022) Enhancing imagery rehearsal therapy for nightmares with targeted memory reactivation. Current Biology; 32(22): 4808-4816.
Selby, E. A.; Ribeiro, J. D. & Joiner, T. E. (2013). What dreams may come: Emotional cascades and nightmares in borderline personality disorder. Dreaming; 23(2): 126–144.