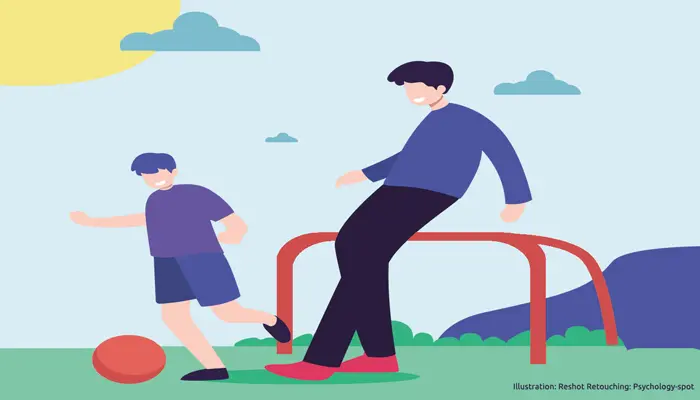 "You see? I told you so!"
It is likely that we have heard this phrase a thousand times in our childhood and adolescence from our parents. We probably hate it. And it is also likely that we repeat it to our children when they make a mistake that we have already warned them about. However, just because this phrase is so common doesn't mean it's appropriate. In fact, we should strive to eradicate it from our lexicon.
"If you don't listen to me you will make a big mistake!", the attitude with which we inhibit children
As parents, we have accumulated more life experience than our children. This allows us to anticipate the mistakes they could make when they make a decision or persist in following a path. It is even possible that we have made the mistake that they are about to make.
As parents, it is also normal for us to see our children make mistakes and fail. Their pain feels like our own, so our first impulse is to avoid everything that could make them feel bad. However, the line between responsible care and parental overprotection is usually very fine, so it is easy to cross it.
One of the most common forms of overprotection comes in the form of warnings. "Don't get on the bike or you'll fall", "Keep your notebook in your backpack or you'll forget it at home tomorrow", "If you dress like that, everyone will laugh at you"… Although many of these warnings may seem sensible to us, it is true that they also limit opportunities for learning through error.
After a warning from parents, there are two possibilities: that the child pays attention or that he decides to do the exact opposite and makes a mistake. And since in parenting nothing is black and white, sometimes paying attention is not so positive and making mistakes is not so negative.
No one learns a lesson in someone else's head
My grandmother used to say that "No one learns a lesson in someone else's head", an obsolete saying that I have never heard again. However, the truth is that many times the experience of others is not enough to make us grow. Therefore, our children also need to make their own mistakes.
When children obey without question, they are really acting directed by us, so they will not experience the consequences of the behavior that we have avoided. Obedience has obviously a positive side: the error and its negative implications are avoided. No doubt. But continually striving to pave the way for our children will end up preventing them from facing life's problems and learning to solve them with their resources.
If we become helicopter parents continually hovering over their children's heads to prevent them from facing the consequences of a bad decision, we take away from them the opportunities to grow and develop critical thinking, a skill that later in life will be essential to choose the path they want to follow.
In fact, behind every "I told you so!" is hidden an attempt to reinforce our authority, positioning ourselves as a reference to whom they must obey next time. In a way, it's like becoming a deity in their eyes. We incarnate the role of an "almighty God" who knows what is right and wrong. And we ask them to obey us without question.
This way we can prevent them from making some mistakes, but we also prevent them from developing the ability to discern what is right or wrong on their own, what they can or should not do, what is harmless from what is dangerous. Instead of promoting their self-determination, we turn them into persons dependent on external approval who, later in life, in the absence of their parents, will look for other referents of power that tell them what they should do.
"I told you so!" is not only a recrimination but also a constant reminder that they need their parents to approve every step they take or every decision they make. Deep down, what this phrase really conveys is that children cannot do it by themselves because, if they dare, they will probably make a mistake and will always find someone willing to hold it against them.
Why is telling them "I told you so!" also useless?
When our children ignore us and continue on their way only to make mistakes later, it is common for us to reproach them with phrases like "Look, I warned you!", "I told you not to do it, but you never listen to me!", "I already knew this was going to happen" or "You should have done what I told you!"… In reality, these phrases only express the frustration of the parents – and deep down sometimes also a certain satisfaction for being right.
When children choose to ignore it, they can be wrong. It's a painful and exasperating prospect in equal measure. Obviously, if they were more obedient, they could avoid many problems, pain, discomfort… But they would also avoid learning that they contain.
Raising kids inside a bubble, always down our iron gaze and under the scourge of warnings to prevent them from making mistakes, will end up negatively affecting their self-esteem and weighing down their self-confidence. When a child makes a mistake for having made a decision and receives this type of comment from his parents, who are the people he loves the most and his main role models in life, it is normal for him to feel ashamed and even humiliated.
These sensations are not pleasant and it is probable that this little one becomes more and more dependent and insecure, that he does not dare to explore the world and is afraid of making mistakes. When he grows up, he will become an adult afraid of failure, without initiative, averse to taking risks and with a profound lack of self-confidence. He will probably be unable to face problems and will break down at the slightest difficulty since he has not learned to deal with adversity, frustration and setbacks that arise precisely from daring to go his own way and make his decisions.
What to do when we sense that our children are going to make a mistake?
Obviously, if we believe that our child or another person is in danger or could be exposed to a risky situation, we must intervene. Above all, it is important to keep children safe, so we cannot allow them to do everything they want without some basic safety rules.
That said, it is also essential to give them some leeway so that they develop their autonomy, even if they run the risk of making mistakes. In fact, being wrong is not something negative, but rather it becomes an opportunity to learn and continue to grow as people.
When children make mistakes, they learn that their actions have consequences and that they must take responsibility for them. They also begin to develop essential life skills such as resilience, perseverance, humility, and critical thinking. In addition, the freedom to decide, make mistakes, fall and get up strengthens self-esteem, underpins security and becomes the basis of self-confidence.
Therefore, when your child makes a mistake, instead of rubbing an "I told you so!", accompany him and help him reflect on what happened in a positive and respectful way. Explain to him that there are times when it is better to listen to the advice of those who have more experience, but let him know that being wrong is not bad and encourage him to learn from what happened.
In this way you will strengthen his confidence and autonomy to make his own decisions. He will also learn to be aware of the consequences of his actions and to face mistakes in a positive way, seeing them as an opportunity to learn and improve in the future.