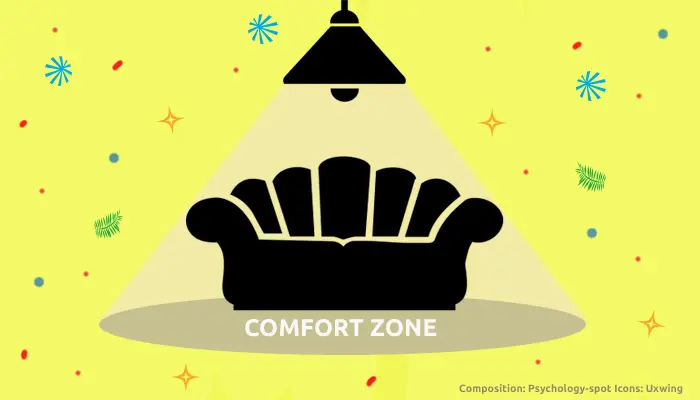 The comfort zone is a safe space where we don't risk, but neither do we grow. It's not simply a physical space but a mental concept. It's not limited to a secure cord we've built around us but includes both our daily routines and way of thinking. Therefore, it can become the perfect excuse not to do, not risk, not grow and, ultimately, not live.
Magical things happen outside the comfort zone, change and growth occur, but there is also the dreaded panic zone, so it's important to find a right balance in life based on a deep knowledge of what is comfort zone and what we can find when we overcome its limits.
How did the concept of comfort zone come about?
The concept of comfort zone goes back to a classic experiment in psychology conducted in 1908 by psychologists Robert M. Yerkes and John D. Dodson, who explained that a state of relative comfort generated a constant level of performance.
However, they also pointed out that to improve that performance we need to experience a certain degree of anxiety, go out and conquer a space in which the stress increases a little. They called that space "optimal anxiety", and indicated that it is just outside the boundaries of our comfort zone.
This is how they created what is known as the Yerkes-Dodson's Law, which can be better understood in this chart:
New experiments confirmed their theory and stated that the motivation and effort to reach a goal increase until the expectation of success or the level of uncertainty reaches 50%, above that figure we begin to demoralize, we lose motivation and the level of anxiety is so high to unbalance and lead us to make mistakes.
What is the comfort zone in which we live?
The comfort zone could be the sofa in the living room where we prefer to stay instead of going out to explore the world, the shops where we always buy, the work we have been doing for more than 10 years or the tourist destination we return to year after year. However, it is also our way of responding to a criticism, to face the opportunities that involve risks and even the way to relate to our partner and/or parents.
The concept of comfort zone refers to a psychological state in which we feel safe and do not experience anxiety or fear. It is a "space" that we know completely and in which we control almost everything.
The habits that we follow with assiduity are those that allow us to build that comfort zone since we know exactly what we can expect from each situation. By minimizing uncertainty, we feel that we have everything more or less under control, so we believe we are safe.
To stay within the comfort zone we must avoid the risks and the uncertainty, which means that we adopt a passive attitude towards life. That feeling of security is costly because we are also losing the incentives to live and fall into the clutches of monotony and apathy. That is the reason why we stick to certain places, traditions, habits and/or people, avoiding any element that introduces novelty because it also means uncertainty and chaos. Therefore, we can say that the comfort zone is a space that we have been conquering but that in turn has also conquered us.
The 2 spaces we unconsciously gravitate towards
Although each comfort zone is unique, as a general rule we tend to gravitate towards two spaces when we seek security: The comfort zone of the past and the comfort zone of the present.
1. Comfort zone of the past. It is a very limiting space since, although it may be comfortable, we do not have the opportunity to change what happened. Remembering the past can comfort us, but staying in its network will prevent us from continuing to grow.
We find ourselves in this space every time we take refuge in the past when the present or the future is drawn with gray colors. We find ourselves in that space when we fall back on old beliefs or solutions that are not adaptive, just because they are what we know, so instead of looking to the future, we cling to what is known.
2.Comfort zone of the present. Not far from the comfort zone of the past is the comfort zone of the present. It is where we find ourselves today, a great black hole made up of the routines that lead us over and over again along the paths we know.
In this space are all the habits that we put into practice without asking ourselves if they are the most appropriate to achieve our goals. It's all that stuff that we do for simple comfort but that doesn't really take us to the place where we would like to be or make us the person we would like to be. The comfort zone of the present is all those automatisms that trap us, preventing us from achieving the objectives we have set for ourselves.
Generally we take refuge in the comfort zone of the past when we are afraid and we move in the comfort zone of the present out of simple laziness.
Signs that we are stuck in our comfort zone
Abraham Maslow wrote that growth can "Be viewed as an endless series of daily choices and decisions, in each of which one can choose between returning to security or moving toward growth." Leaving the comfort zone, to a large extent, facilitates this growth.
Since the comfort zone is a space that we built slowly over the years, many times we do not realize that we are trapped inside. We are so accustomed to our habits and lifestyle that we do not realize how they limit our possibilities to grow.
Some signs that indicate that you must leave your comfort zone are:
– You do not grow from the emotional and intellectual point of view but you experience a deep apathy
– You feel deeply unmotivated, no new project or plan encourages you enough
– You close yourself to new ideas since these do not fit with your perfectly structured belief system
– You are afraid to take risks, so you prefer to let good opportunities pass with the excuse that you could lose more than what you can win
– For months or years you have followed the same routine, so it's been a long time since you have experienced that incredible sensation of being alive that makes you try new things
– You feel more isolated and you begin to think that everything is meaningless since you do not find anything stimulating in your daily routine
– You do not learn anything new that can bring a touch of different color to your life because you feel that you are well that way, although deep down you experience a great emptiness, as if you needed something more
7 good reasons to leave the comfort zone
The American writer Max DePree said: "We can not become what we want to be, remaining in what we are today." However, there are many other good reasons to be encouraged to leave the comfort zone.
You will be prepared you for difficult times. As safe as we feel in our comfort zone, that space will not protect us from the problems, which usually appear in life in an unexpected way generating great uncertainty. If we are not used to changes, these problems can destabilize us and even generate psychological disorders. Learning to live outside the comfort zone, dealing with novelty, unforeseen events and uncertainty will make us people emotionally stronger who can better handle adversity when it occurs.
You will be more productive. Comfort kills productivity because without that small dose of anxiety that accompanies deadlines and expectations, we tend to do the minimum necessary to achieve mediocre results. In short, the comfort zone leads us to mediocrity, to content ourselves. Another possibility is that we fall into the "work trap", pretending that we are "too busy" as an excuse to stay within our comfort zone and avoid new things. Going a little beyond our limits can make us recover the necessary stimuli and improve our productivity in a thousand possible ways, even resorting to creativity.
Your limits will be wider. Once we step out of our comfort zone, it expands, which means that we become more open to change. Adopting this attitude allows us to be able to deal with the "optimal anxiety" without this bothering us, on the contrary, we learn to use it to our advantage, taking advantage of the energy that reports to us.
Your creativity will increase. The comfort zone represents everything we know. Outside is another world to discover. In the comfort zone there are no great ideas or new discoveries, it is necessary to leave the known to find the inspiration that stings creativity. Only then will we be able to generate new ideas, see old problems from a different perspective and establish original connections. In this sense, a study conducted at the University of Florida found that students who spent just one semester outside their country scored better on creativity tests than those who had been studying at the same university.
You will gain self-confidence. Leaving the comfort zone is a bit scary, but when we do it and achieve our goals we experience an incredible feeling of empowerment. In practice, when we are able to deal with situations that frighten us a little, we understand that we are much stronger than we think, which reinforces our self-concept. In addition, as we overcome obstacles we gain skills that become part of our backpack of tools for life. In fact, a study conducted at Duke University revealed that people who frequently step out of their comfort zone are more confident in their abilities to successfully perform challenging tasks.
You will feel more alive. When leaving the comfort zone we meet new people and live new experiences. Some of these experiences will not be positive but others will become a driving force that gives us new energy. Soon we will discover that the feeling of emptiness disappears, simply because we learn to enjoy more life. In this sense, psychologists from the University of Haifa found that people who were encouraged to leave their comfort zone reported greater life satisfaction and felt happier than those who simply stayed within the limits of what they knew, following their daily routines.
You will age better. A study conducted at the University of Texas revealed that leaving the comfort zone helps us preserve cognitive abilities as we get older. Keeping the mind active and considering new challenges is essential since it represents an important source of stimulation both mentally and socially. Therefore, staying within the comfort zone means being outside the area of ​​improvement.
How to get out of the comfort zone without hurting ourselves?
Once we know what the comfort zone is and the problems that can cause us becoming too attached to habits and known things, it is clear that it is necessary to get out of that vicious circle in which we entered ourselves. For this we must assume that experiencing a little anxiety from time to time is positive because it keeps us alive, strengthens us and helps us grow.
However, it is also important to keep that level of anxiety under control, which means that there is no need to jump into the void without a parachute, we can leave our comfort zone one step at a time, stopping when we feel that anxiety and fear begin to grow in intensity.
There are people who can leave their comfort zone taking a big leap because they can manage that level of anxiety. Others need to take small steps slowly. The important thing is not how you do it or the pace you take, but that you are able to expand your horizons more and more.
In all cases, the secret lies in finding a balance in which this anxiety for the new and unknown generates a positive state not making us feel bad. To do this we must ensure that we stay in the growth zone.
In this graph we can see that the growth zone is where we can reach the best of ourselves, facing new challenges with an acceptable level of anxiety. In the growth zone we can learn new things, enrich our points of view, modify our habits and experiment.
On the contrary, falling into the zone of panic can become paralyzing and frightening, causing us to return scared to shelter in the original comfort zone. In the panic zone we experience a deep sense of lack of control and fear of losing what we have achieved.
There are those who affirm that a step beyond the zone of panic awaits us a magical zone, but the truth is that it's not essential to experience that space that can generate so much discomfort if we make sure to continuously expand our growth zone. These exercises to get out of your comfort zone will allow you to expand your growth zone without experiencing too much anxiety.
In fact, we must be aware that transcending the comfort zone involves a certain degree of uncertainty and discomfort. We must be prepared to embrace the uncertain because if we feel excessively threatened by unpredictable events, especially those that challenge our competence and jeopardize our needs for control and predictability, there is a good chance that we will lock ourselves in our comfort zone to feel safe.
We must not forget that uncertainty and unpredictability can threaten our psychological integrity, representing a severe test for our ego. Research suggests that when we must make certain decisions, we tend to maintain the status quo and avoid implementing new solutions.
Sometimes, we simply prefer to stay within the limits of what is known for fear of failing. Other times we do it out of simple laziness. Ultimately, maintaining default states requires less mental effort and carries less psychological threat than change. For that reason, it is important that we are fully aware of all the challenges that await us outside the comfort zone, so that taking that step does not become a trauma.
It is not convenient to live eternally outside the comfort zone
It is important to leave the comfort zone, but neither should it become an obsession. We must bear in mind that we can not live outside of our comfort zone all the time. From time to time it is useful to return to that space where we feel safe to process calmly our experiences.
In fact, if we make the mistake of completely forgetting about that comfort zone, we fall into the risk of suffering what is called "Hedonic Adaptation", which means that new things and experiences cease to impress us and no longer make us feel alive, because we have become accustomed to the adrenaline rush they produce. That is the reason why the incredible becomes ordinary in a very short time.
Therefore, we don't have to see the comfort zone as our enemy, as many Personal Growth gurus affirm it's an opportunity to grow but also a space to comfort ourselves.
References:
Park, D. et. Al. (2014) The Impact of Sustained Engagement on Cognitive Function in Older Adults: The Synapse Project. Psychol Sci; 25(1): 103-112.
Lee, C. S. et. Al. (2012) On the Cognitive Benefits of Cultural Experience: Exploring the Relationship between Studying Abroad and Creative Thinking. Cognitive Psychology; 26(5): 768-778.
Yerkes, R. M. & Dodson, J. D. (1908) The relation of strength of stimulus to rapidity of habit formation. Journal of Comparative Neurology and Psychology; 18: 459-482. 
Kiknadze, N. C. & Leary, M. R. (2021) Comfort zone orientation: Individual differences in the motivation to move beyond one's comfort zone.Personality and Individual Differences; 181: 111024. 
Russo, G. & Cohen, G. L. (2022) 'If you're uncomfortable, go outside your comfort zone': A novel behavioral 'stretch' intervention supports the well-being of unhappy people. The Journal of Positive Psychology; 18(3): 394-410.