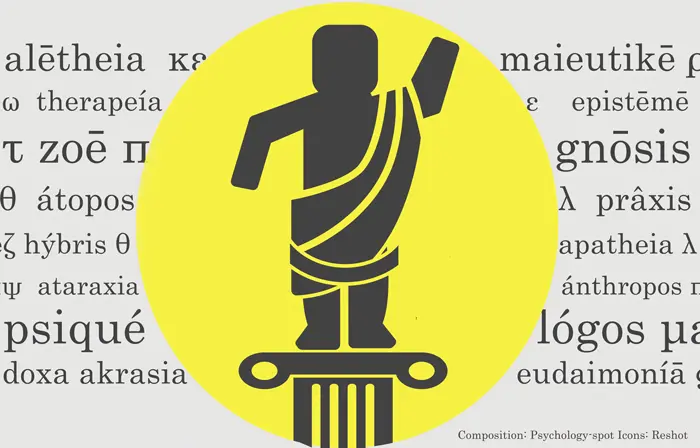 "Everything has two handles, the one by which it may be carried, the other by which it cannot. If your brother acts unjustly, don't lay hold on the action by the handle of his injustice for by that it cannot be carried; but by the opposite, that he is your brother, that he was brought up with you; and thus you will lay hold on it, as it is to be carried", says the Equiridion, a manual that collects the teachings of the Stoic philosopher Epictetus and which has reached our days thanks to the disciple Lucius Flavius Arriano.
Epictetus was referring to that very human tendency to get angry and frustrated when things do not go as we wanted, but he also invites us to see the other side to find the positive or, at least, what makes the situation more tolerable, so that we can reduce the damage it causes us. How to achieve it?
Focusing on what we can control: our perception of situations
Epictetus, faithful to Stoic principles, thought that only what depends on us concerns us. "As for all the things that exist in the world, some depend on us, others not. Our opinions, movements, desires, inclinations and aversions depend on us; in a word: all our actions. The things that do not depend on us are everything that is not our own action."
This philosopher was convinced that to find balance and inner peace, eudaimonia, we must focus on what depends on us and, therefore, on the way we interpret events. We can focus on the negative, what harms us or, on the contrary, we can try to look for the positive or what we can take advantage of to move forward.
Viktor Frankl agreed with this Stoic vision. The psychiatrist who was imprisoned in the Nazi concentration camps stated: "When we can no longer change a situation, we have the challenge of changing ourselves […] Everything can be taken from a man except one thing: the last of human freedoms – the choice of the personal attitude in a set of circumstances – to decide one's own path."
Don't take it personally
The world does not conspire against you, if you do not conspire against the world. For Epictetus, evil does not exist, at least as we understand it. He stated that "Just as a target isn't set up in order to be missed, the world wasn't made in order for you to live viciously." The philosopher preferred to give the benefit of the doubt rather than let the discomfort wear him down inside, turning over what happened over and over again in his mind.
He recommended: "When any person harms you, or speaks badly of you, remember that he acts or speaks from a supposition of its being his duty. Now, it is not possible that he should follow what appears right to you, but what appears so to himself. Therefore, if he judges from a wrong appearance, he is the person hurt, since he too is the person deceived. For if anyone should suppose a true proposition to be false, the proposition is not hurt, but he who is deceived about it. Setting out, then, from these principles, you will meekly bear a person who reviles you, for you will say upon every occasion, "It seemed so to him."
Epictetus warned us that taking things too personally would cause them to harm us more. On the other hand, assuming that many times people do not act badly on purpose or that they have simply let themselves be carried away by circumstances allows us to adopt the necessary psychological distance to prevent their behaviors, attitudes or words from harming us more than they should.
Assume an equidistant attitude
Finally, Epictetus warned us about the erroneousness of many of our interpretations. Our thinking is often quick to draw conclusions and make value judgments, often motivated more by emotions than by reason.
"Does anyone bathe in a mighty little time? Don't say that he does it ill, but in a mighty little time. Does anyone drink a great quantity of wine? Don't say that he does ill, but that he drinks a great quantity. For, unless you perfectly understand the principle from which anyone acts, how should you know if he acts ill? Thus you will not run the hazard of assenting to any appearances but such as you fully comprehend," the philosopher recommended.
By eliminating value judgments, especially without knowing the reasons, we save ourselves a lot of frustration and lighten our hearts from resentment. Assuming a more objective attitude in our relationship with others will save us many conflicts and disappointments, allowing us to protect our emotional balance.
Source:
Arriano, L. F. (2013) Equiridion, o manual de Epicteto. CreateSpace Independent Publishing.