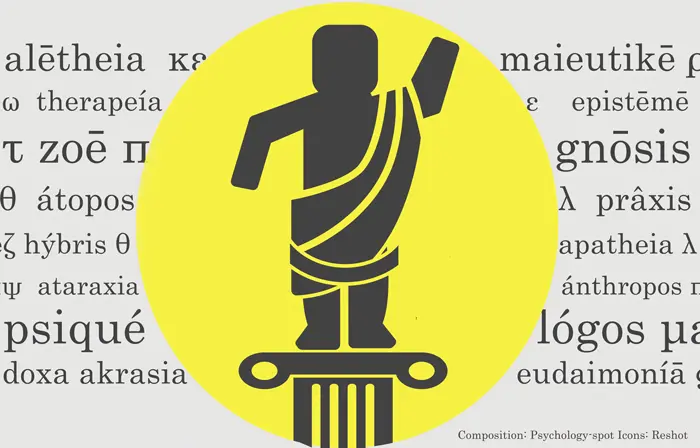 Everyday life generates many situations that become the ideal breeding ground for regret. When day-to-day tensions, problems, setbacks and conflicts accumulate, it is easy for us to lose control at some point and end up reacting impulsively or making bad decisions. Then, when the waters turn calm, they bring to light an unwanted guest: regret.
When we reflect on the facts with a cool mind, we conclude that we should have acted differently. And it is likely to be so. But crying over spilled milk isn't helpful beyond the small cathartic relief it can provide. The truth is that regrets and remorse can become great enemies of our well-being, a heavy burden that prevents us from moving forward.
What is regret?
In Greek, metanoia, from the verb metanoeo, is the word used to refer to regret. Formed by the word meta, which means after, beyond, and noeo, which refers to thinking, it indicates a profound change in the way of thinking, perceiving, judging and feeling things.
From that perspective, change itself is neither positive nor negative. However, today regret implies the recognition that we could have done something better in the past, which is why it is often considered a negative state.
However, regret is actually a useful emotion. A study developed at the University of Illinois revealed that regretting something can activate a behavioral change aimed at remedying the damage or error. In other words, repentance pushes us to learn the lesson and, therefore, can help us correct some behaviors and achieve better results in the future.
The problem begins when regret does not leave us and we blame ourselves in a loop for what we did or did not do. In fact, turning things around has also been found to increase the likelihood of feeling more dissatisfied and experiencing difficulty coping with negative events, according to researchers at Swarthmore College in Pennsylvania.
The Stoics, who especially addressed our tendency to ruminate, would define repentance as the moment in which past events consume our present. According to Stoic philosophy, repentance occurs when we focus on situations that are beyond our control since they belong to the past and we resist fate.
How to overcome regret by applying Stoic philosophy?
1. Focus on what you can control
"It is necessary to eradicate once and for all two elements: the fear of future suffering and the memory of past suffering; since the latter no longer concerns me and the former still does not concern me," Seneca wrote in "The Letters to Lucilius."
Stoic philosophy, like no other, encourages us to focus our efforts on what we can control, letting go of past regrets. Regret is practically inevitable when we look back, but the mental dialogue it activates and the emotions it generates are under our control. Therefore, the question is not "what do I regret?" but "how do I deal with it?" or "what can I do to repair the damage or correct the error?"
This change in perspective will allow us to assume a proactive attitude, instead of limiting ourselves to standing idly by and nursing regrets. We can reflect on the things we regret. Of course! But we must also learn that what happened is out of our control, so we need to let it go.
Epictetus recommended: "Try to distinguish whether that idea belongs to that which depends on you or, on the contrary, is part of that which does not depend on you. And if it belongs to that which does not depend on you, think without hesitation: 'this does not concern me.'" Of course, it is not easy, but with practice it becomes more natural, so that we can allocate our efforts and energy to what we can change here and now.
2. Embrace amor fati to change your perspective
Amor fati is a Latin phrase that means "love your destiny." In Stoic philosophy it means accepting everything that happens to us in life, including mistakes, losses and adversity, because everything has a meaning, even if we are not always able to see it.
"Bitter is the cucumber. Chuck it. There are brambles in the path. Avoid them. Is that enough? Don't add: 'Why in the world does that happen?' Because you will be ridiculed by the man who studies nature, just as you would be by the carpenter and the shoemaker if you condemned them for the fact that in their workshops you see shavings and cuttings of the materials they work with," wrote Marcus Aurelius in his "Meditations."
This philosopher urges us to act when necessary, without falling into the loop of recriminations. Sometimes things go wrong and we react badly, it is part of nature, but if we are able to weigh all the factors, we can avoid regrets.
That level of radical acceptance will prevent us from getting stuck in the loop of recriminations and blame. Amor fati means understanding that everything that happens is part of a process, a learning path that we must follow to grow as people.
3. Prepare for the future with Praemeditatio Malorum
"We must project our thoughts forward at all times and take into account all possible eventualities rather than limiting ourselves to the usual course of action. We must foresee all the possibilities and strengthen the spirit to deal with the things that could happen. Try them in your mind," Seneca recommended.
The Stoics practiced a technique called Praemeditatio Malorum that involved imagining the worst possible outcomes in realistic scenarios with the goal of desensitizing and preparing us to deal with real-life losses, cope with problems, and even feel grateful for the present.
Applying this technique does not imply embracing a pessimistic vision of the world but rather adjusting expectations, so that problems, setbacks and unforeseen events do not take us by surprise because, as Seneca said, "The effects of what is not expected are more overwhelming since the disaster is added to the weight of the unexpected. The unexpected has always intensified a person's pain." In this way we will be able to deal with adversity with greater integrity and reduce the chances of losing control, which will allow us to make better decisions and prevent regrets.
According to the Stoics, following these 3 rules will not only help us free ourselves from regret, but is also the way to live more serenely and happily, to achieve eudaimonia. In general, it is about realizing that "We often suffer more in imagination than in reality," as Seneca pointed out.
Regret does not escape this norm since it is a reflux of thoughts about the past. We believe that if we had acted differently, the result would have been different. But we can never know for sure. Each moment is a unique crossroads that can take us in one direction or another. The important thing is to assume that we cannot go back, but we can change our thinking. Realizing that can change everything. Therein lies our true power.
Sources:
(2023) How To Deal With Regret ( 3 Stoic Strategies to Live Free). In: DailyStoic.
Saffrey, C. et. Al. (2008) Praise for regret: People value regret above other negative emotions. Motiv Emot; 32(1): 46–54.
Roese, N. J. & Summerville, A. (2005) What we regret most … and why. Personality and Social Psychology Bulletin; 31: 1273–1285.
Schwartz, B. et. Al. (2002) Maximizing versus satisficing: Happiness is a matter of choice. Journal of Personality and Social Psychology; 83: 1178–1197.
Aurelio, M. (1977) Meditaciones. Editorial Gredos: Madrid.