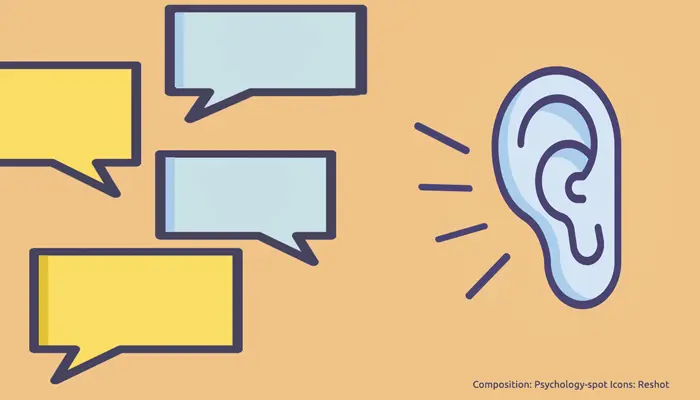 One of the main mistakes we make in interpersonal relationships is trying to "fix" the other person. It is a normal reaction since, when we see that someone is having a hard time, we try to alleviate their pain by looking for solutions.
However, this attempt to "fix" the other can often be seen as meddling. Unsolicited advices can lead to defensiveness. In fact, often people just need emotional validation. It means listening with an empathetic attitude, without judging. To achieve this, there is a very powerful communication technique: reflective listening.
What is reflective listening?
Listening is vital to building strong relationships. Of course, there are many ways to listen, although only attentive, empathetic, active and deep listening unites, connects and transforms us. There is also a particular listening technique that allows us to avoid conflicts, clarify misunderstandings and better understand the other person to reach an understanding.
This special type of listening involves paying respectful attention to the person, both to the content of his/her words and to the emotions he/she is trying to convey. Reflective listening means both hearing and understanding and letting the other know that we are listening and understanding. Therefore, it requires actively responding and being fully present during the dialogue.
In reflective listening we do not offer our opinion, but rather we try to stay focused on the other's need or problem. It is not reactive listening but focuses on trying to clarify and reaffirm what our interlocutor is saying. As a result, it not only helps us better understand the situation, but also gives the other person the opportunity to clarify their point of view and, above all, makes them feel heard and validated.
How to apply reflective listening in our relationships?
Angela Buffington summed up this communication technique perfectly: "When using reflective listening, the question is not, 'What can I do for this person,' but rather, 'How does that person see himself/herself?'"
In a way, reflective listening is a kind of "checking" process to determine that we are both understanding and are on the same wavelength. We try to answer the question: "What is happening to him/her right now?" and we check our response to make sure we are listening well and understanding accurately.
The two main techniques for practicing reflective listening are reflection and paraphrasing. Reflection involves repeating key phrases of our interlocutor while paraphrasing consists of reformulating his/her words.
Through reflective listening, instead of trying to "fix" the other or drawing hasty conclusions, we become a mirror that reflects their feelings, ideas or attitudes with the aim of shedding clarity on what is happening.
To apply reflective listening, it is essential to take note of the signals that the person sends in three fundamental areas:
1. Content. Are the words expressed and their possible meaning
2. Feelings. Are the emotions expressed implicitly or explicitly in communication
3. Context. Everything that is related to the topic, but is not directly expressed, such as the person's past or the situation that triggered the conflict
For example, if someone says "Everything is disastrous," we can respond: "It seems like you feel sad because things are not going well. Do you want to talk about it?". If a person reproaches us: "You never listen to me", we can respond: "I see that you are angry/disappointed with me, do you want us to talk about it?"
The key, according to Carl Rogers, one of the main promoters of this technique, is to become a mirror with the aim of increasing the other's awareness of their feelings, but without questioning them. This helps the person take a step back to reconsider their words, feelings, or even points of view.
To use reflective listening in our daily lives, we can follow these steps:
1. Point out the emotion we notice
2. Invite dialogue, whether through words or body language
3. Wait in silence to give our interlocutor the opportunity to speak
4. Listen with a proactive and empathetic attitude to what they have to say
5. Restate his/her main ideas/complaints/problems more clearly and concisely
In what situations can we use this communication technique?
Reflective listening is a very useful technique in a wide variety of contexts:
• Better understand and help a person who is experiencing a difficulty or problem
• Resolve problems or conflicts in communication that require the ability to put ourselves in the other's shoes and understand their point of view
• Generate a climate of understanding, warmth and empathy in particularly tense situations where it is necessary to reach an agreement
• Decrease the resistance or anger of the others or get them to lower their defenses to promote constructive dialogue
In general, it is a communication technique that can be used in any complex situation in which we want to understand exactly what is happening and convey our commitment to dialogue and our willingness to reach an understanding through empathy. It's subtle listening that can make a difference in a conversation and in our relationships.
At first glance, it may seem a little simple or even condescending, but it is actually very effective because instead of dwelling on words we get to the heart of the matter: feelings.
In fact, we must remember that often people are ashamed to openly acknowledge their emotions, so reflecting them and putting them on the table frees them from that weight and shows them that we understand them and are on their side. By reflecting our interlocutor's experience, we are giving them something much more valuable than advice: we are providing them with a genuine bond that respects their individuality.
References:
Buffington, A. et. Al. (2016) The Art of Listening. Minn Med; 99(6):46-8.
Arnold, K. (2014) Behind the Mirror: Reflective Listening and its Tain in the Work of Carl Rogers. The Humanistic Psychologist; 42: 354–369.